3 Facts About Cosmetic Surgery and Board Certification
| ABCS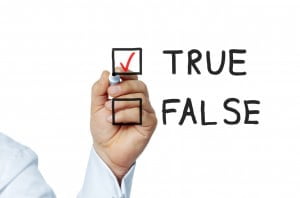 A simple Google search about cosmetic surgery board certification returns millions of results—and not all of it is accurate. Wading through the information can be overwhelming, but understanding what being board certified by the American Board of Cosmetic Surgery (ABCS) really means is essential when choosing a surgeon to perform your cosmetic surgery. We've outlined the top 3 things you may not know about the ABCS and board certified cosmetic surgeons to help you separate fact from fiction.
Did you know…certification by the ABCS requires more cosmetic surgery training than the American Board of Plastic Surgery?
There are a number of differences between a cosmetic surgeon certified by the ABCS and a surgeon certified by the American Board of Plastic Surgery, the largest of which is training.
The application, fellowship, and testing necessary for becoming certified by the ABCS are very stringent. Prior to applying, potential diplomates must meet strict requirements. Residency and existing board certification in one of seven approved fields must be completed, in addition to a one year, American Academy of Cosmetic Surgery (AACS) certified fellowship in cosmetic surgery at an accredited hospital or surgery center.
During this time, ABCS diplomates are required to complete no less than 300 cosmetic procedures, with many surgeons performing above this number. Surgeons certified by the American Board of Plastic Surgery are only required to complete 150 cosmetic surgery procedures prior to graduation—a fraction of their overall training.
After completing the approved course of study, the ABCS requires surgeons to pass rigorous written and oral exams that test knowledge and understanding of cosmetic surgery. Those who achieve ABCS certification will be doubly board certified.
For a full breakdown of the differences in training for cosmetic and plastic surgeons, review our detailed guide.
Did you know…the ABCS is pushing for cosmetic surgery to be viewed as a true medical specialty?
The American Board of Cosmetic Surgery has been helping surgeons specialize in cosmetic surgery for over three decades. As the field of cosmetic surgery continues to expand, it's imperative that strict guidelines and training requirements are upheld and that surgeons have an avenue for receiving cosmetic specialization. Equally important is helping potential patients fully understand credentialing and how to choose a surgeon who will provide a safe, successful outcome.
The growth of the ABCS has become a catalyst for change in state legislation. The ABCS is currently recognized in Texas and Oklahoma as being equivalent to American Board of Medical Specialties (ABMS) member boards. Education about the ABCS is spreading and, as such, the ABCS is being recognized as a leader in cosmetic surgery standards.
Did you know…the ABCS is the future for credentialing cosmetic surgeons?
Through the years, cosmetic surgery has naturally grown into its own specialty: with dozens of cosmetic procedures and variations on them, it's no longer just a sub-specialty of plastic surgery. To maintain public safety and provide patients with successful cosmetic surgery results, it is imperative that we require more thorough training of and specific certification for cosmetic surgeons.
Although the field of plastic surgery has grown to include cosmetic procedures, the American Board of Plastic Surgery requirements, training, and testing are still largely focused on reconstructive plastic surgery procedures.
The American Board of Cosmetic Surgery is a necessary certifying body for upholding excellence in cosmetic surgery and providing the highest standard of care. Working diligently to set the bar high, the ABCS holds the gold standard when it comes to certifying cosmetic surgeons. To find a list of ABCS surgeons in your area, click here.