We invite you to join us as standard-bearers for excellence in the field cosmetic surgery.
The American Board of Cosmetic Surgery accepts only those who have completed the most extensive, in-depth and focused cosmetic surgery training programs. By limiting candidacy to those who have completed a full year (or more) of training concentrated solely in cosmetic surgery, the ABCS reinforces its commitment to public safety and aesthetic surgery.
The difference between minimum training requirements for the American Board of Plastic Surgery versus the American Board of Cosmetic Surgery is illustrated in the following diagram. Notice the emphasis on non-cosmetic surgery training by the American Board of Plastic Surgery versus the focused cosmetic surgery training required by the American Board of Cosmetic Surgery: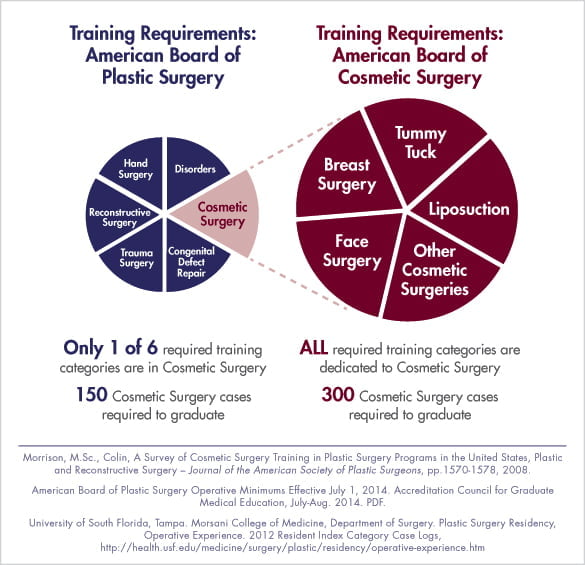 Copy and paste the code below to embed this graphic.
Once a candidate has completed his or her residency training and obtained primary board certification, they can apply to a cosmetic surgery fellowship. For candidates from surgical specialties in General surgery, Obstetrics and Gynecology, Oral and Maxillofacial surgery, Otolaryngology or Plastic Surgery, it is a requirement to complete a one year general cosmetic surgery fellowship. Ophthalmologic surgeons must complete a two year cosmetic surgery fellowship. Contact us for details regarding allowed specialties and residency programs.
If you have a passion for aesthetics and desire to focus solely on cosmetic surgery, we invite you to contact us today to learn more.