The American Board of Cosmetic Surgery prides itself on setting the highest standards for training, expertise, and ethical practice in the cosmetic surgery field—and we're raising this bar even higher with the Cosmetic Surgery Patient Safety® certification. All ABCS surgeons will now have the opportunity to voluntarily complete a Patient Safety Exam in addition to the rigorous testing and training already required to become an ABCS certified surgeon.
We are a highly trusted resource for patient safety
With a 40-year history of certifying safe cosmetic surgeons, the ABCS is a go-to resource for patients interested in learning more about cosmetic surgery. Patient safety remains the most critical component of our mission, and the certification gives patients who are choosing a qualified cosmetic surgeon yet another resource in their toolkit.
Cosmetic Surgery Patient Safety® certified surgeons
Patients can identify certified surgeons by the Cosmetic Surgery Patient Safety logo (shown below) next to their name in the ABCS diplomate directory, or on a surgeon's personal website.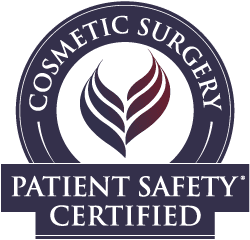 I want to become Cosmetic Surgery Patient Safety® certified
Additional patient safety resources
To learn more about the ABCS' commitment to patient safety, see the following resources: