When Should You Choose a Cosmetic Surgeon?
| ABCS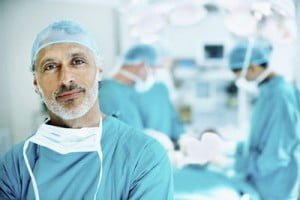 If you are considering elective surgery to enhance your appearance or correct an abnormality, perhaps you've wondered whether you should find a cosmetic surgeon or a plastic surgeon to perform your procedure. Becoming educated about your options and learning the difference between a cosmetic surgeon and a plastic surgeon are invaluable when selecting the right doctor for you.
Cosmetic vs. Plastic Surgeon: What's the Difference?
The main distinctions between a plastic surgeon and a cosmetic surgeon lie in specialization within their field. Cosmetic surgeons specialize in improving patient appearance, and their training is 100% focused on aesthetic surgery procedures, such as facelift and breast augmentation. Cosmetic surgeons that are board certified by the American Board of Cosmetic Surgery must perform 300 cosmetic procedures before they will be considered for this certification. Plastic surgeons spend approximately 83% of their training learning reconstructive surgeries such as hand surgery, cleft palate repair, and breast reconstruction, and approximately 17% on cosmetic procedures. Plastic surgeons need 150 cosmetic procedures to become board certified by the American Board of Plastic Surgery, and the remainder of their procedure requirements are in reconstruction surgery. Visit this page for more information regarding the certification process and to see a diagram on training requirements.
Should You Choose a Cosmetic Surgeon or a Plastic Surgeon?
You may still be wondering which type of surgeon is best suited to helping you achieve your goals. These common scenarios may be helpful when evaluating your options:
"After having children, my breasts and body are just not the same."
A board certified cosmetic surgeon would be an excellent choice in this example. After having children, many women notice that their breasts and body have changed and wish to correct sagging breasts or a soft tummy. A board certified cosmetic surgeon can offer solutions such as body contouring, breast enhancement, or a combination of procedures tailored to your unique needs. With specialized training and experience with cosmetic procedures, a board certified cosmetic surgeon may be the best fit for seeking purely aesthetic body enhancements.
"I was in a car accident and have severe scarring that affects both my appearance and the functionality of the affected area."
In this example, we would recommend visiting a board certified plastic surgeon, who should have experience and training in correcting disfigurement. While a cosmetic surgeon can improve the physical appearance of some scarring, a board certified plastic surgeon may be a better option for addressing extensive scarring that affects form and function of the surrounding areas.
"I've never been satisfied with the size and shape of my breasts and would like them to be larger."
A board certified cosmetic surgeon is qualified to evaluate your breasts and help you choose an implant that is right for you. Because a considerable portion of the training requirements for a board certified cosmetic surgeon is focused on breast augmentation, you can be confident in choosing an ABCS surgeon.
"I have back pain because my breasts are very large and too heavy for my frame."
Breast procedures, including breast reduction surgery, make up a significant portion of required training and experience to become a board certified cosmetic surgeon. If the weight of your breasts is taking a toll on your back and you wish to reduce and lift your breast tissue, consulting with a cosmetic surgeon can be a great first step.
"I was born with a cleft-palate and would like to improve the appearance and performance of my upper lip."
The cleft-palate birth defect affects both appearance and functionality of the upper lip. Many board certified plastic surgeons are experienced in cleft-palate repair and are well-versed in congenital defects and techniques used to restore proper performance and appearance.
"I'd like to get rid of all of these lines and wrinkles on my face and have a more youthful appearance."
An ABCS certified surgeon can help you address the appearance of lines and wrinkles with a variety of surgical and nonsurgical options. Our surgeons are specifically trained in performing  procedures such as facelifts, brow lifts, injectables, and other facial rejuvenation services. Of the 300 cosmetic surgeries required during the cosmetic surgery fellowship, an equal number of procedures are focused specifically on facial rejuvenation. Choosing a cosmetic surgeon for any of these procedures is a wise decision.
Undergoing surgery is not a small decision, and selecting the right surgeon is an integral part of the process. If you are seeking aesthetic enhancement, we recommend choosing a cosmetic surgeon certified by the American Board of Cosmetic Surgery. By selecting a board certified cosmetic surgeon, you are putting yourself in the hands of a well-qualified, knowledgeable and experienced doctor.