Top 6 Cosmetic Advancements of the Last Decade (and a Hint of What's to Come)
| ABCS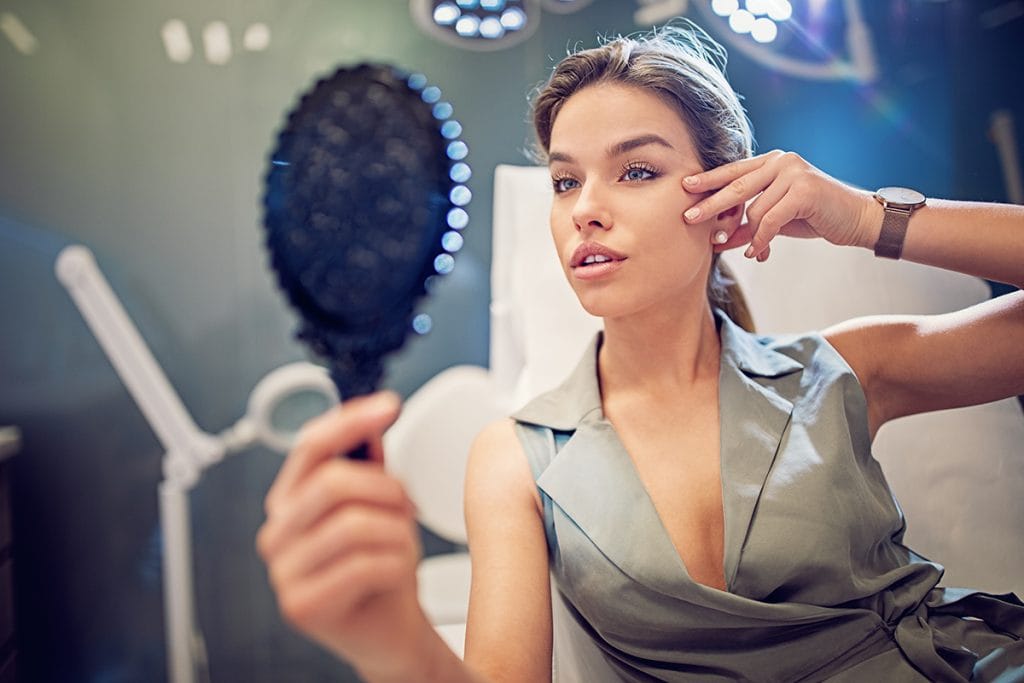 The 2010s were an impressive decade for cosmetic medicine, with advances in both surgical and non-surgical arenas. Without further ado, here are our picks for the most important advances in the past ten years—plus our forecast for what will be trending in the 20s.
#6 Hybrid fractional laser technology
Getting a laser treatment used to mean weeks of intensive recovery. Thankfully, device manufacturers recognized the need to develop options that provided laser skin resurfacing benefits without downtime. Still, prior to this decade, it was largely an either-or scenario: either you went with ablative lasers that delivered results but required far more healing time, or you were satisfied with the milder changes offered by non-ablative lasers.
While fractional lasers were in use pre-2010, the most recent decade brought us hybrid fractional lasers, such as the HALO™ laser, which combine ablative and non-ablative wavelengths to benefit the skin on multiple levels. Scientists found combining the two wavelengths offered ablative-like skin renewal with the ease in healing associated with non-ablative lasers.
#5 Radiofrequency for skin renewal
The 10s saw the rise of radiofrequency (RF), with brands such as Thermage® and Ultherapy® entering the market and advertising skin tightening without surgery. While results were found to be somewhat modest in comparison with the high hopes of consumers hoping to look as young as Christie Brinkley post-procedure, the method is proven to increase collagen production, and the technology has many promising applications.
RF technology was also used to boost microneedling
Microneedling began trending early in the 2010s, but at-home rollers and simplistic versions of the treatment gave temporary results at best. What brought the procedure to the forefront of skin-enhancing treatments was the addition of radiofrequency. This technological advancement meant the potential collagen-boosting effects of microneedling were substantially increased, with benefits including visible reduction in the appearance of wrinkles and scars.
RF Microneedling devices include Endymed™, INFINI, Fractora, Secret™, and Vivace, but as with any treatment, a brand name device does not guarantee beautiful results. For your safety, have the procedure at an aesthetic medical practice led by a board certified cosmetic surgeon.
#4 Brazilian butt lift safety campaigns
The Brazilian butt lift procedure's exponential rise in popularity soon after its wider introduction in the United States led to safety problems which were of great concern to the entire plastic and cosmetic surgery community. Two issues were apparent: first and foremost, unqualified providers were offering the procedure, lured by profit. Second, the gluteal region is unique in the body and requires special surgical knowledge, yet, as a newer procedure, best surgical practices for buttock enlargement were not yet widely disseminated.
To improve patient safety, many surgeons and societies started campaigns to educate patients in making safe choices when seeking buttock enhancement. The American Board of Cosmetic Surgery and other prominent organizations knew patient lives could depend on making the right choice—namely, a board certified cosmetic surgeon with proven butt lift experience, assisted by a qualified anesthesiologist and operating in an accredited operating room.
A task force comprised of highly experienced buttock enhancement surgeons was also formed to closely analyze Brazilian butt lift mortality causes. In 2019, the task force released its recommendations for surgeons, which included specific information on the safest ways to perform the procedure. It is hoped that the dissemination of this information will further increase Brazilian butt lift safety, however, it is still critical that patients follow overall guidelines for safe cosmetic surgery.
#3 Non-surgical vaginal rejuvenation
Throughout the 2010s, numerous non-surgical vaginal rejuvenation (NVR) devices were brought to market. This was possible in large part because both laser and radiofrequency (RF) technologies were already commonly used for medical purposes, and manufacturers could quickly create new devices specifically adapted to treat the vulvovaginal area.
Radiofrequency devices for non-surgical vaginal rejuvenation include Protégé Intima, ReVive, ThermiVa, and Viveve.
Laser devices for non-surgical vaginal rejuvenation include CO2RE Intima, diVaTyte, DivaTight, FemiLift, FemTouch, IntimaLase, MonaLisa Touch, and Petit Lady.
Perhaps the most talked-about among these to date has been ThermiVa, thanks to its prominent marketing. But in 2018, the FDA notably questioned the manufacturer for specifically marketing the device as a tool for vaginal rejuvenation. The FDA cleared the company later the same year after it updated its website to focus on the specific actions for which ThermiVa was FDA approved.
While patients should be skeptical about too-good-to-be-true claims, the medical community has proven non-surgical vaginal rejuvenation treatments can help women address a number of concerns.
The ThermiVa website now states, "Thermi's temperature-controlled RF system is indicated for use in dermatological and general surgical procedures for electrocoagulation and hemostasis." They additionally explain that when using radiofrequency energy, tissues are "heated to stimulate and re-build your body's own collagen."
While patients should indeed be skeptical about too-good-to-be-true claims—particularly when it comes to premenopausal use—the medical consensus on NVA devices is that they offer some clear benefits. A group of doctors writing in the journal Lasers in Surgery and Medicine offered this summary:
"The currently available data on the effects of fractional laser and RF on the skin, and additional information reported in almost 20 peer-reviewed publications on GSM-related symptoms, unequivocally demonstrate the following vaginal changes: thickening of glycogen enriched postmenopausal epithelium, neovascularization, and neocollagenesis in the lamina propria, increased lactobacilli counts, reduced pH, vaginal wall tightening, and improved urination control with minimal risk of short- and long-term complications."Excerpted from "Light and Energy Based Therapeutics for Genitourinary Syndrome of Menopause: Consensus and Controversies" published in Lasers in Surgery and Medicine's February 2017 special issue on Lasers in Women's Health.
Patients (including numerous celebrities) remain enthusiastic about these effects, and many doctors have responded by adding non-surgical vaginal rejuvenation treatment with laser or RF devices to their menu of options.
#2 Improved fat grafting techniques
Fat grafting can be a dream come true: take fat from where you don't want it and place it where you could use it! Additionally, the idea of having an all-natural filler produced by your own body is appealing to many.
However, early patients were often somewhat let down by fat grafting results due to a few factors. First, the best possible methods for separating and then reinjecting fat were still in development, so the percentage of fat that "took" was lower than initially hoped. Secondly, doctors were still gaining an understanding of how and where in the body the technique could be most effectively used.
Fat grafting is now a proven way to enhance a number of areas, from the face to the upper breasts to the buttocks.
Midway through the decade, studies concluded that better fat grafting results could be delivered with a few advances. First, centrifugation of harvested fat became the gold standard, replacing sedimentation. Second, doctors found that slower reinjection increased the amount of fat that effectively took. Fat grafting is now a proven way to enhance a number of areas, from the face to the upper breasts to the buttocks. Many cosmetic surgeons like to use injected fat to help breast implants look even more natural; rejuvenating the hands is another innovative option.
#1 Cryolipolysis (CoolSculpting® or "fat freezing")
The most recent decade started off with a bang, with the FDA approval of Zeltiq's CoolSculpting device in 2010. Now ubiquitous, non-surgical fat reduction is widely used to subtly trim figures—it would be hard to miss the advertising saturating most markets. With 350,000+ patients now having the procedure each year, it's quite possible the friends you thought had trimmed their bodies by spending hours at the gym might very well be shedding fat with cryolipolysis.
Still, the procedure isn't the end-all-be-all when it comes to fat removal. After the initial hype subsided, patients came to understand that while freezing fat is convenient, results take months to show—and non-surgical reduction is unable to precisely and dramatically shape the body in the way surgical liposuction does. Furthermore, there are possible side effects of fat freezing, and the cost of repeated treatments can add up to that of a surgical procedure.
It all comes down to finding a cosmetic surgeon you can trust
Each year brings new technology and techniques in cosmetic medicine and while some advancements represent definitive progress, others don't live up to their promises—or need further improvement before they are worthy of recommendation.
The good news is you don't have to sort out which options will be best for you on your own: a board certified cosmetic surgeon can provide expert guidance and help you achieve your aesthetic goals.