Can an Injectable Treat Cellulite? The ABCS Has the Details on QWO™, the New Injectable that Promises to Smooth Cellulite in the Buttocks
| ABCS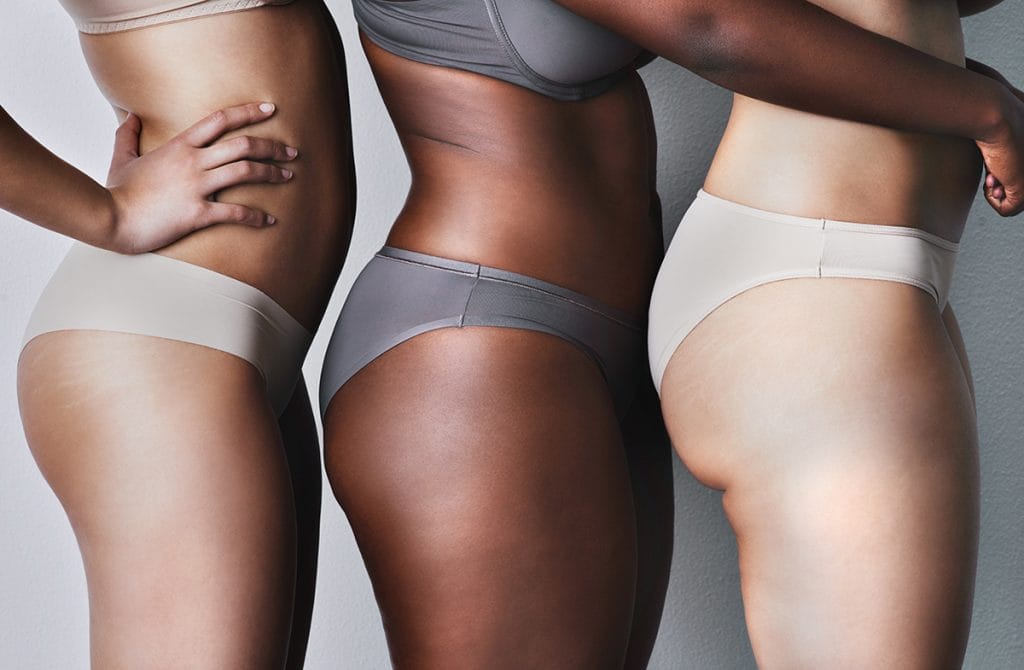 It's been years since a new cellulite treatment has been FDA-approved, and of the existing treatments, all can promise only temporary results. This is why everyone is talking about QWO (a.k.a. collagenase clostridium histolyticum-aaes), a new treatment that recently received FDA approval to treat cellulite in the buttocks of women.
QWO promises to allow cosmetic surgeons to actually smooth dimpling on the buttocks with just an injectable. If this new "shot for cellulite" proves to be as effective as the clinical trials suggest it is, treating cellulite could be simpler than ever before. Here's what we know so far about this new injectable, which is expected to become available at cosmetic surgeons' offices in spring of 2021.
What are cellulite injections?
As patients become comfortable with BOTOX®, Restylane®, and other injectable treatments, it follows that injectables may be developed for other skin issues, like cellulite. While the mechanism behind QWO is similar to that of currently-available cellulite treatments, such as those that use lasers, this treatment is the first injectable for cellulite—and the least invasive treatment to show tangible results.
If this new "shot for cellulite" proves to be as effective as the clinical trials suggest it is, treating cellulite could be simpler than ever before.
How does QWO work?
Before we discuss the mechanism of QWO, let's recall a few basics about cellulite:
Cellulite is the dimpling of the skin around pockets of fat. Cellulite is not skin laxity, or sagging skin.
Cellulite is caused by bands of collagen, or septae, that tether the skin to the muscle. As fat is deposited between the skin and the muscle, the "dimples" are caused by the septae tightening the skin to the muscle between the pockets of fat, making the fat appear encircled in divots, or dimples.
To date, there is no permanent treatment for cellulite. There are various available cellulite treatments that employ lasers, tiny incisions, and energy treatments such as those that use radio frequency or infrared technology. The longest any of these lasts is 3 years. And treatments that remove fat, like liposuction, do not necessarily treat cellulite.
About 85% to 90% of women experience cellulite, regardless of their weight. Men do not experience cellulite nearly as often because the septae beneath their skin form differently.
To administer QWO, the doctor injects directly into cellulite dimples on the buttocks—up to 12 injections for a single treatment, or 24 injections for two treatments. Once injected, the enzyme in QWO is thought to target collagen types 1 and 3 to release the septae, ultimately releasing the dimple and making the skin appear smooth. In its clinical trial, QWO was injected three times, each 21 days apart, to produce results in patients.
How does QWO compare to existing cellulite treatments?
Other available cellulite treatments also work by severing septae. Cellfina® uses a tiny blade to sever the bands, while Cellulaze™ does so with thermal energy from a laser. Perhaps the oldest cellulite treatment uses a cannula to mechanically cut the septae. The major difference with QWO is that it appears to loosen septae chemically. By comparison, QWO is less invasive, and requires less downtime after treatment.
Is QWO an effective cellulite treatment?
The FDA approved QWO to treat cellulite in the buttocks of women. In clinical trials, it appears to reduce the severity of "dimpling" in this area. In the study, participants received three injections, each 21 days apart. The image below shows a participant at Day 1 and Day 90 (28 days after the third injection). We have evidence that it is effective, although it has only been studied in this area of the body.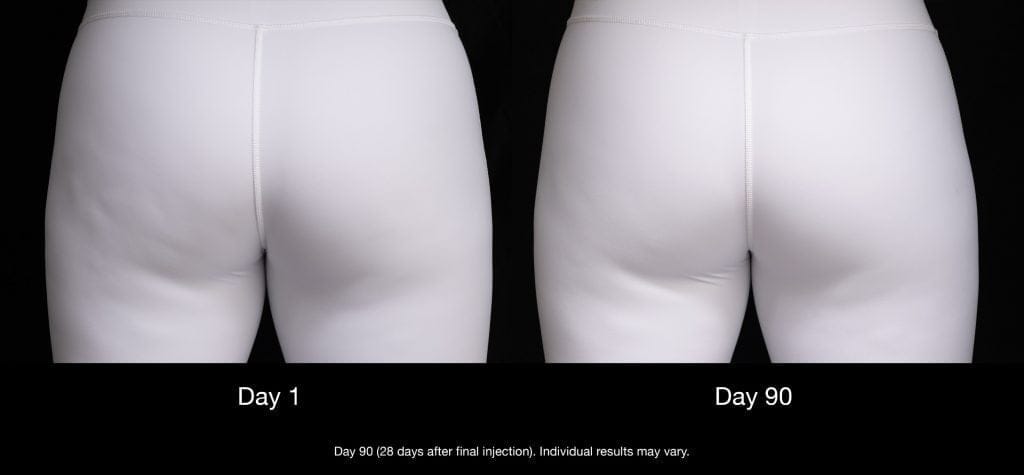 Photo courtesy of Endo International
What kind of results can I expect from QWO?
With any treatment, it's important for patients to have realistic expectations. With the evidence we have from the initial study, it appears that QWO—much like other cellulite treatments—will significantly reduce but not totally eradicate cellulite.
Finally, there is no data that looks at how long QWO's smoothing effects last. Because QWO is brand-new, published studies have not followed QWO patients' results longer than 90 days.
What are the risks associated with QWO injections?
Most patients experienced some level of bruising after treatment with QWO. Other reported side effects were mostly local to the injection site, including pain, the formation of nodules, swelling, redness, itching, a warm sensation, and discoloration. One patient self-reported a severe allergic reaction.
While the clinical trial was extensive enough to gain FDA approval for the treatment, the longest that some patients were observed for risks and side effects was six months—and that was only a portion of the participants from the clinical study. This means that QWO's long-term safety is not yet confirmed.
Can you reduce cellulite naturally?
The only non-medical cellulite-reduction treatment that works is specialized massage. However, the results are both subtle and temporary. You can explore our page about available cellulite treatments for more information.
When will QWO be available? How much will QWO cost?
QWO's manufacturer, Endo Aesthetics, estimates that QWO will be available at your cosmetic surgeon's office beginning in spring of 2021. The company has not yet released information about what the treatment might cost.
Find a Provider In Your Area
To find out if QWO for cellulite reduction is a viable option for you, we recommend scheduling a consultation with a highly-qualified cosmetic surgeon who has advanced medical training and a track record of success in aesthetic medicine. While QWO won't be available until sometime in 2021, now is a great time to discuss your cosmetic needs and learn about all of your body contouring options. Use our search tool to find an ABCS surgeon near you.